Blog Home
Holiday Movie Magic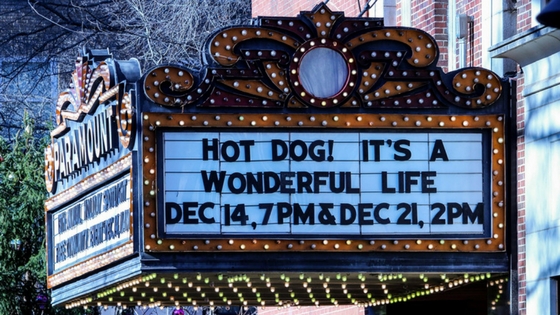 Hot Dog! It is a wonderful life — or so the classic movie implies — and we think it is the perfect start to the holiday season here in Massachusetts. So take some time out of your busy schedule (it's December, so it's busy, right?) and watch the holiday film, It's a Wonderful Life. Directed by Frank Capra, it has been a favorite for decades.
Original Reviews of Classic Movies
We thought it would be fun to share a part of the original review for It's a Wonderful Life with our residents.
Frank Capra "again proves he can fashion what ordinarily would be homilizing hokum into gleaming, engaging entertainment for all brows-high, low or beetle." Jimmy Stewart "hasn't lost a whit of his erstwhile boyish personality (when called to turn it on) and further shows a maturity and depth he seems recently to have acquired," and Donna Reed "will reach full-fledged stardom with this effort."
This quintessential holiday movie leaves the viewer feeling like their faith in humanity is valid, and we think that's a good thing. (If you are an old-movie buff, you may enjoy these other original reviews of holiday classic movies.)
We also like these holiday classics — which can bring some of that holiday magic to life:
A Charlie Brown Christmas (1965) — Animation, Comedy, Family
"Repelled by the commercialism he sees around him, Charlie Brown tries to find the true meaning of Christmas."
A Christmas Story (1983) — Comedy, Family
"In the 1940s, a young boy named Ralphie attempts to convince his parents, his teacher, and Santa that a Red Ryder B.B. gun really is the perfect Christmas gift."
The Bishop's Wife (1947) — Drama, Family
Starring Cary Grant, Loretta Young, and David Niven, this holiday tale of a neglected wife and and an obsessed clergyman comes to life when an angel intervenes to help them both learn the real reason behind the season.
Other movies for the season include these from a list of one-hundred favorites (descriptions are from IMDb). These movies, from that list, are worth watching again.
If you're not one for the holiday classics, head on over to your local theater and catch the latest on the big screen. Check in with the IMDb website to see what movies are hitting theaters this month! Don't forget the drinks and the popcorn! The Kensington at Chelmsford Blog wants to wish everyone in our apartment community happy holidays!